Norrtälje-Stockholm och tillbaka

13-14 sept it´s vernissage for my first solo exhibition. It takes place i Norrtälje so you could say that I´m back were it all started. The name of the gallery i Gallery Gillet and it´s situated at Posthusgatan 2, right at Stora torget in the centre of Norrtälje.
I´m absolutely terrified that no one will turn up at all. Let´s hope that will not happen. I like to say to all of my friends; please come and support me! At least share a glas of wine with me.
It´s really easy to get to Norrtälje. Buses from Stockholm departs from Stockholm every 10 minutes and the gallery is only a few 100 meters from the bus station.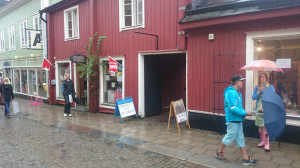 Visa större karta